DSUST notice on exam slip and profile update
This is to inform the University students to visit their profile page and print Examination Information Slip Students who are yet to upload their Passport Photograph and complete their profile on the University's website should as a matter of urgency, do so, on or before 4.00pm Friday, July 1st, 2022
Students who do not adhere to the above directive will not be eligible for the examinations.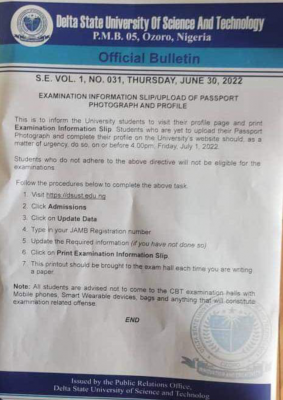 Follow the procedures below to complete the above task
1. Visit https://dsust.edu.ng
2. Click Admissions
3. Click on Update Data
4. Type in your JAMB Registration number
5 Update the Required information (if you have not done so)
6. Click on Print Examination Information Slip
7. This printout should be brought to the exam hall each time you are writing a paper
Note: All students are advised not to come to the CBT examination halls with Mobile phones, Smart Wearable devices, bags and anything that will constitute examination-related offense.